Are you gearing up for a job evaluation?
If you're in the process of applying for a new position, the company might request that you undergo a skills assessment. At first, you might question the need for such a test. After all the time and effort you've invested in crafting your resume, it can be disheartening if it's overlooked. However, the Velents assessment offers you a chance to showcase your skills. If you perform admirably, there's no way you'll go unnoticed.
We know that the thought of taking an assessment can be very worrying because you're uncertain about what to anticipate. But this guide is designed to help you get ready for every phase of the assessment process. This information is particularly relevant to candidates who have received an invitation to participate in a Velents assessment.
Important Note: Velents is not a personal testing service. To access an assessment on our platform, you must have received an invitation from a potential employer.
Invitation and starting
The recruiter will send you the assessment then you click on the interview link, and you will find yourself on this page.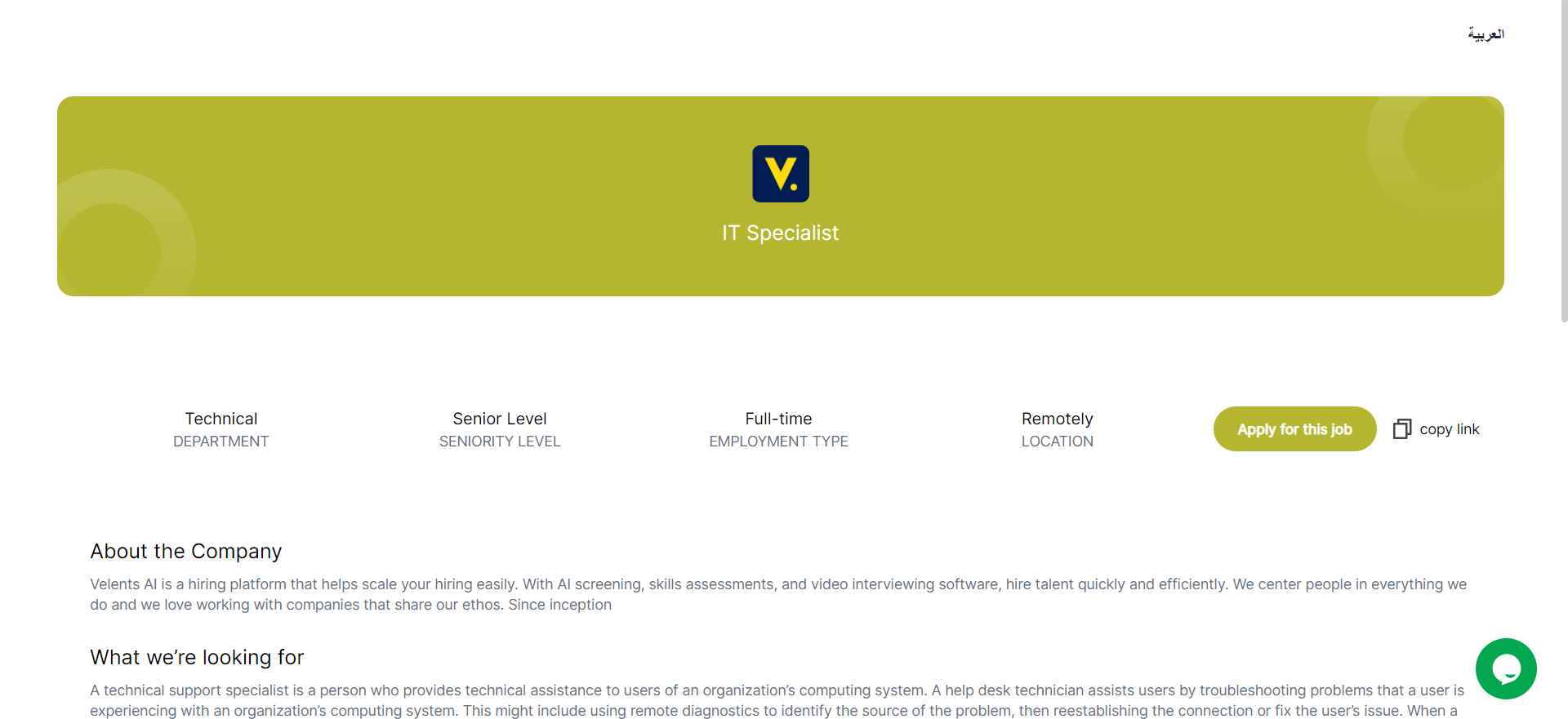 If you are ready for the evaluation process, click "Apply for this job."
Once you click "Apply for this job," you will find yourself on this page, where you can:
Fill out your personal data (your name, email, and CV).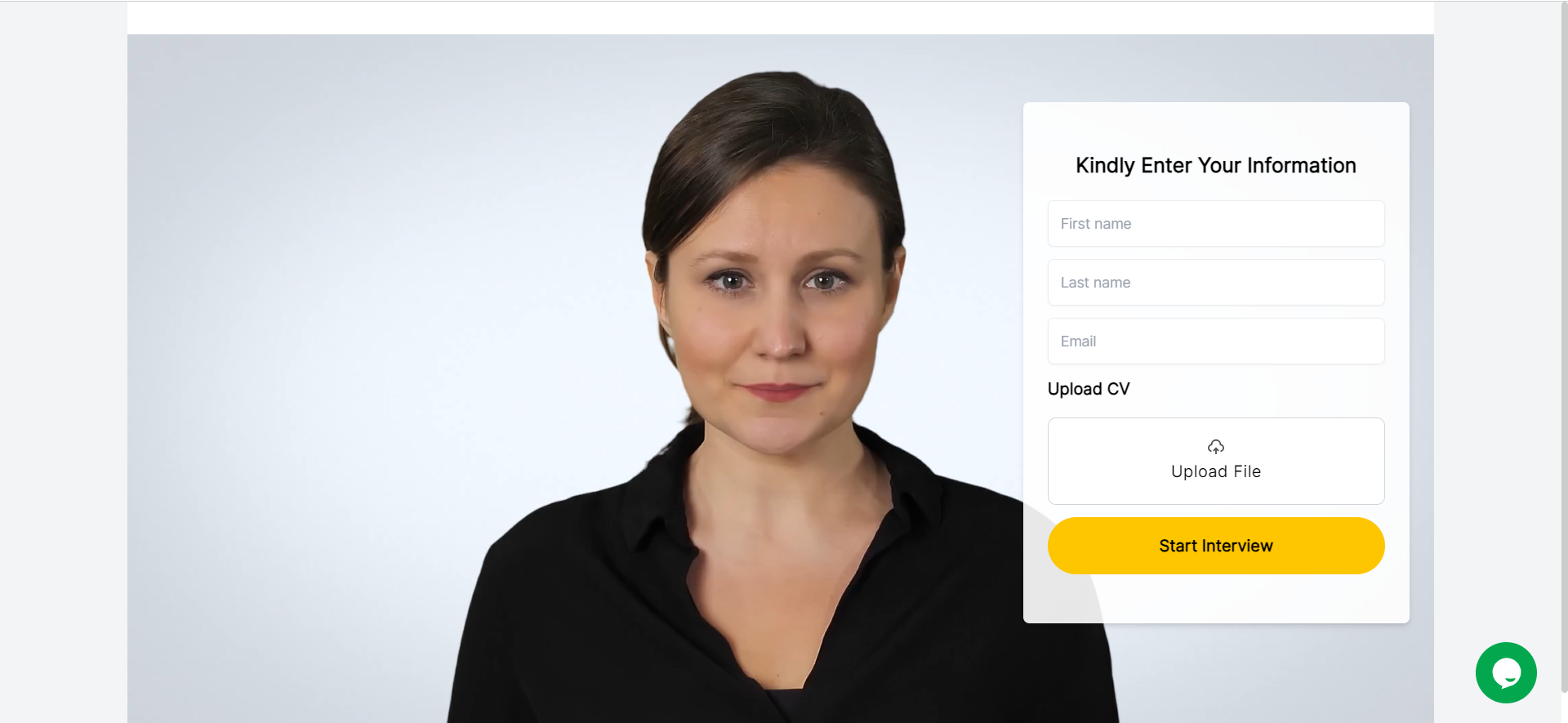 First, listen to the welcome message and the precautions that must be taken into account during the evaluation process, which include:
1. It is important to be in a well-lit area to allow facial recognition technology to analyze your expressions accurately.
2. Ensure your location is quiet to avoid confusion during analysis.
3. It is recommended to use a computer rather than a small mobile device as this will allow the technology to accurately analyze your body language.
4. Accept all browser requirements to be able to conduct the audio and video interview.
5. Dress smartly and appropriately for the job interview, as these interviews may be reviewed by hiring departments.
6. During the interview, avoid wearing any face coverings such as niqab or masks to ensure proper recognition of your facial expressions by the technologies.
7. It is important to be genuine and true to yourself when presenting yourself to others. This ensures a fair and accurate assessment of your skills and personality.
After filling out your information, you will find yourself on this page.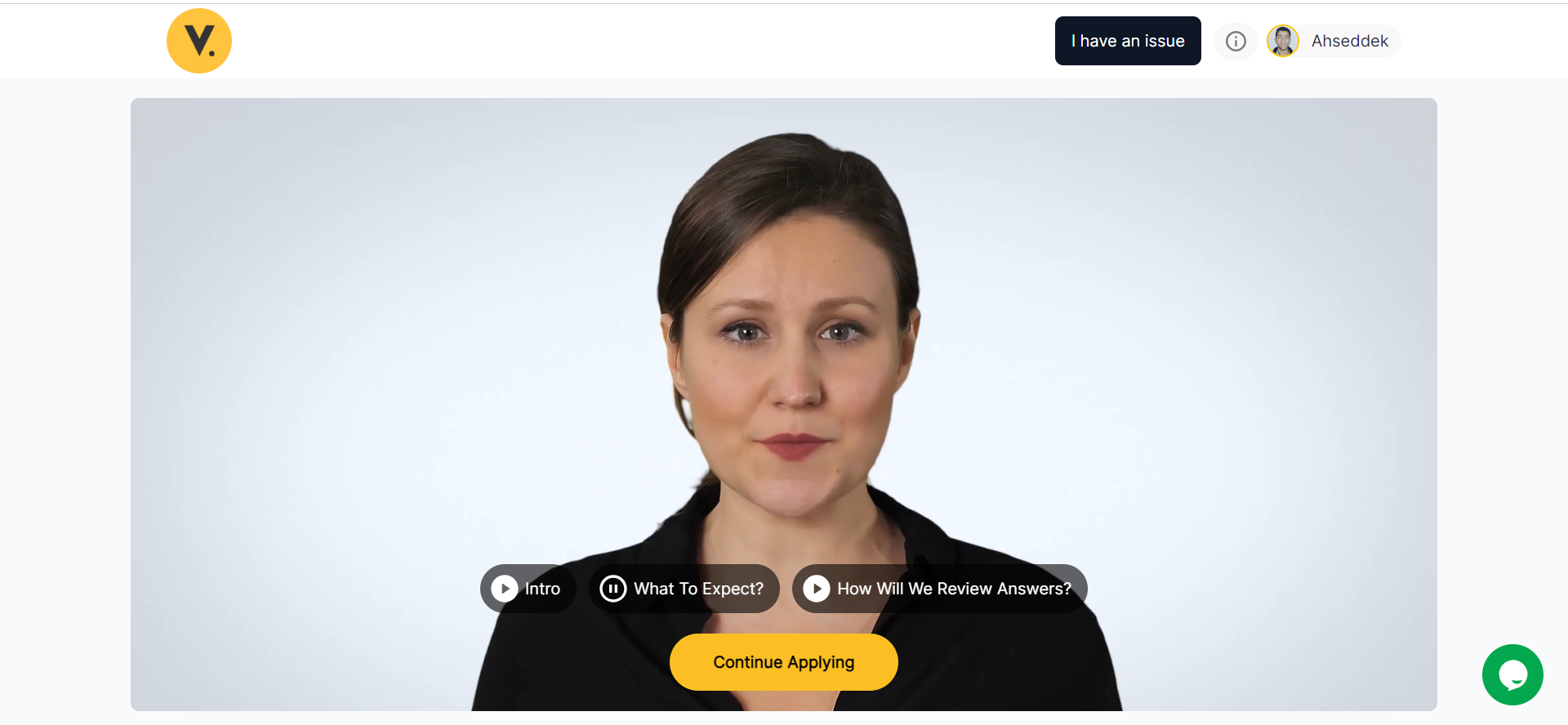 After clicking on "Continue applying" the countdown begins to begin the evaluation process.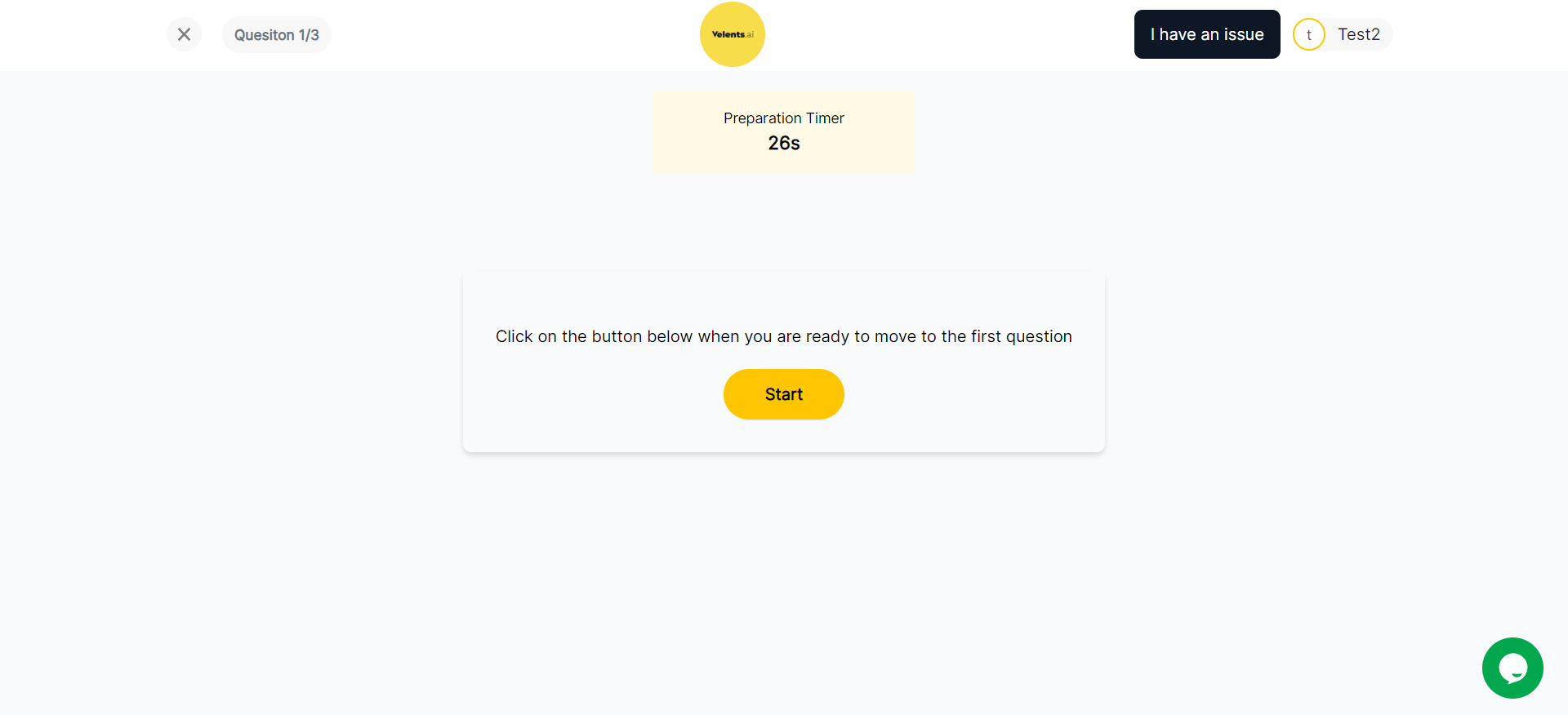 You can speed up the startup process by pressing the "Start" button.
Now you can conduct the first step of the evaluation, by starting on "Start Registration" and answering the question.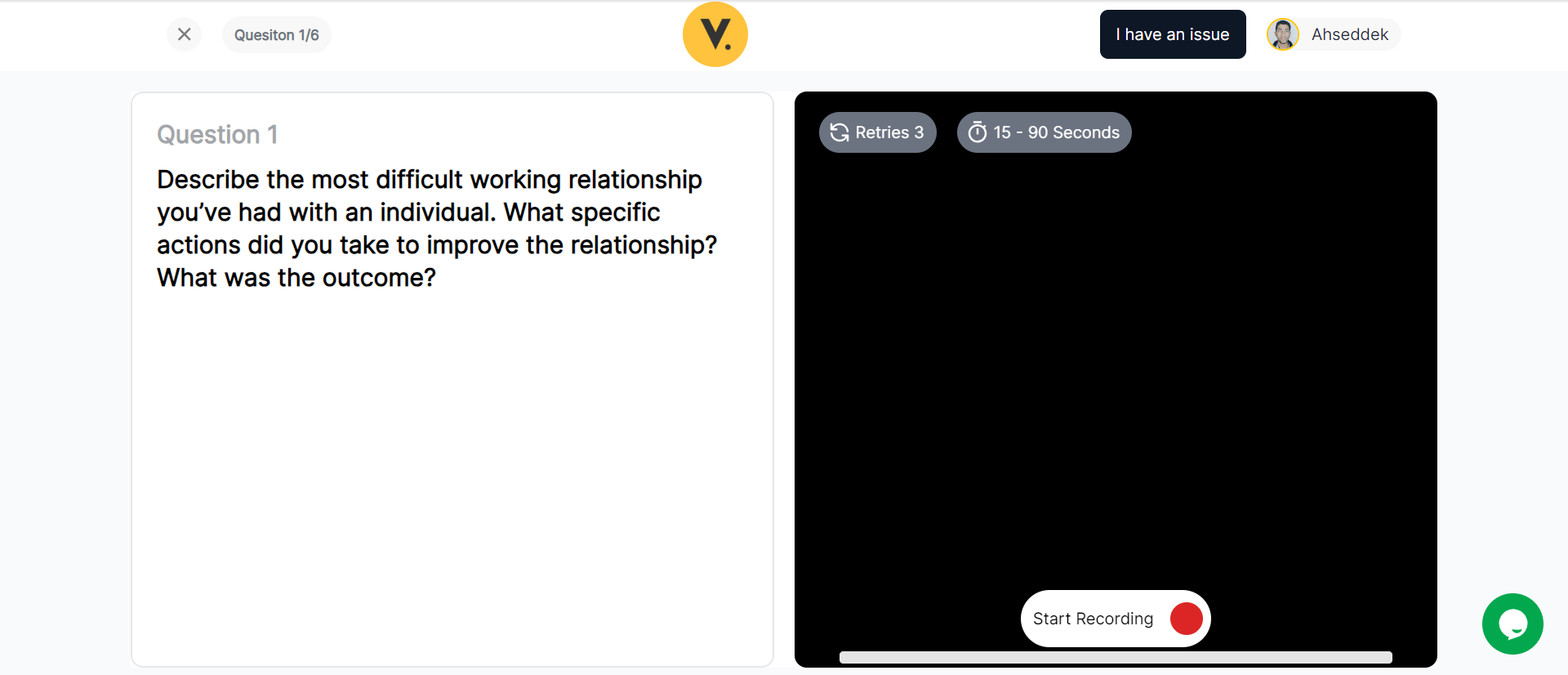 After being sure of the answer click 'Submit Answer'. And continue the process.
Do not hesitate to repeat your answers again and again for 3 times until you feel that you have answered in a perfect way from your point of view by pressing the "Retry" button.
During the interview, you will be evaluated from 3 different aspects:
1. Your answers will be analyzed and compared to the ideal criteria chosen by the hiring manager.
2. Your psychological behavior resulting from your body movements and emotions during the interview will be analyzed.
3. Your psychological traits extracted from the interview will be analyzed
After completing the interview, be careful not to leave the session, as your skills will be evaluated several moments later.
If you are worried about the interview with Velents' InterviewPrep, you can practice the interview through the Candidate Assistant, as it provides you with a near-realistic simulation of the real interview that enables you to pass any interview smoothly.
Common questions
Who do I contact for technical issues during my assessment?
In case you come across any technical problems during your assessment, kindly start by checking our FAQ and troubleshooting manual.
What kind of equipment is necessary to successfully finish my assessment?
You can access a comprehensive list of required equipment in our article Assessment-Taking Tools.
Can I re-answer the question?
Sure, simply click on 'Retake Answer' and start answering again.
When does the timer start running?
The timer begins when you click the 'Start Recording' button. Prior to each test, we'll inform you about the expected duration. And a visible timer will be present during the test, providing you with real-time updates on the time remaining.
How long does an assessment take?
The duration of an assessment can vary since each company uses the system to create and tailor their own assessments.
What steps should I take if I am unable to finish my assessment for any reason?
If you're having technical issues, the fastest answers are found in our FAQ and troubleshooting guide. or you can contact us from the Live chat.
What if I didn't perform well on the assessment? Am I allowed to retake it?
Unfortunately, you are only permitted to take the assessment once. The assessments are designed to evaluate your current skills and capabilities, and they are not intended for practice or multiple attempts.